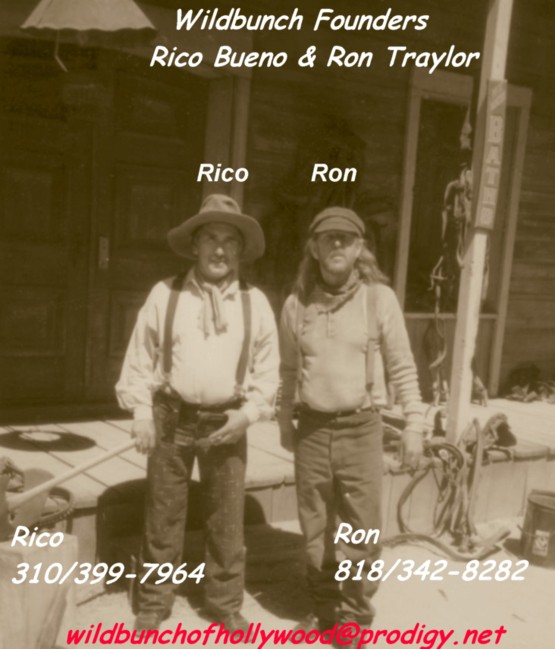 Article reads as follows:

GOOD AT BEING BAD

Wild Bunch one tough act

By Dave McNary

Daily News Staff Writer

HOLLYWOOD - Let's say you're an assistant director on a movie and you need several dozen bikers on the set the next day, complete with tattoos, piercings and choppers. Rather than put in a request to the Hells Angels, you might want to call the Wild Bunch of Hollywood.The organization, founded three years ago by aspiring actors Rico Bueno and Ron Traylor, has about 140 members who specialize in portraying rough-and-tough types convincingly while not creating headaches for the assistant director and crew. "We're people who look this way in real life," Bueno said. "We're very strict about showing up on time and acting professionally on the set." The group, which charges actors a $5 monthly fee, supplies rosters to major casting agencies and holds quarterly meetings with a potluck barbeque. The inspiration for the Wild Bunch came from the late Dutch Van Dalsem's Rent-A-Gang, which supplied bit players in the late 1980's and early '90's.

The group, which had a major presence as villains in "Waterworld" and prisoners in "Out of Sight," was originally called the Bad Boys of Hollywood but changed the name because it was receiving many calls for women. "We chose the name because people would say, give me some of the people from that wild bunch," Bueno said. They've had extra roles in "Face/Off," "The Naked Gun 33 1/3," "Desperate Measures," "Dr. Quinn, Medicine Woman" and "Escape from L.A."

"We get cast in a lot of thing like biblical movies, westerns and sci-fi - anything where they need a lot of weird characters," Traylor said. Most Wild Bunch members are in the Screen Actors Guild. Information on the group is available at (213) 960-5549 and (818) 410-1372 and at wildbunchofhollywood@prodigy.net. Plans for a Web site are in the works.

            THE WILDBUNCH

             OF HOLLYWOOD

WHEN YOU NEED A REAL BADASS IN YOUR FILM

The Wild Bunch of Hollywood

The Wild Bunch of Hollywood character actor and stunt group was created in 1992 by Rico Bueno and Ron Taylor as a networking group for specialty actors and as a way for principle and background casting directors to find all their character needs in one place.  The first major films to be cast was "
Waterworld
", "
From Dusk till Dawn
" (George Clooney), "
Rat Race 2001
"and "
Pirates of the Caribbean
"(Walt Disney), and the projects our members have worked on now number literally in the thousands from commercial such as Citibanks "What's in Your Wallet", "
The Neighbors
" and "
My Name is Earl
" and countless others.  Our select membership consists of mostly SAG experienced character actors who also do background or "extra" work.  We are bikers, hookers, gang bangers, homeless, winos, degenerates, thugs, strippers, rockers, drug addicts, pimps, bouncers, prisoners, cowboys and Indians in all your favorite movies, TV shows, music videos, Video Games and Commercials.  Our members provide the casting director with professionalism, along with authenticity.  For example, our bikers are REAL longhaired, bearded and tattooed bikers who own and ride their own Harleys and who are also experienced actors who show up on time and do their job in a professional manner.  Also, since The Wild Bunch of Hollywood members make their livings as character actors, they are able to provide a wide variety and many selections of specialized wardrobe, from flashy hooker clothes to authentic looking homeless looks to gang "color" to leather biker gear.
We are also able to provide over 30 custom Harley Davidsons, as well as many other vehicles, from vintage trucks, sporty Ferraris, to low rider cars and vespas. 

The Wild Bunch of Hollywood has among its membership several experienced stunt people and our own stunt coordinator who just happens to eat live fire, swallow swords and owns over 100 snakes, rodents, birds and reptiles.

We are also able to provide, if needed, experienced on-set coordinators to act as production assistants or "Wranglers" as well as live stock including horses, bridle and saddles.

The Wild Bunch of Hollywood is a complete package providing casting directors with one stop shopping for professional, experienced and authentic looking character actors, stunt people, vehicles and coordinators.  We've worked hard on our image and great reputation in the industry.

Member photo collage book available upon request.  Please contact Ron or Rico for more information.